Mineral Salt Soak
Body: All

---
KEY INGREDIENTS

Magnesium Chloride flakes is nature's remedy to joint pains, improving circulation, stress relief and muscle recovery. Ours is sourced organically from the Zechstein seabed, 1500m underground, 250 million years in the making.
---
AROMATICS
Calming essential oils of Lavender, Cedarwood and Petitgrain.
---
ALL OTHER INGREDIENTS
Organic Calendula petals, Rose buds & petals, Himalayan Pink Salts, Dead Sea salts, Sea salts, Magnesium Sulfate (Epsom), Organic Magnesium, Activated Charcoal and our signature blend of essential oils.
---
PLEASE NOTE: Activated Charcoal draws impurities by adhering to surfaces. While it adheres, it never stains / scratches a tub, and only make existing marks (otherwise invisible to the naked eye) prominent. Please be mindful of your tub's pre-existing condition. For more info, visit our FAQs section. If unsure, we recommend our Calendula Sun Salts.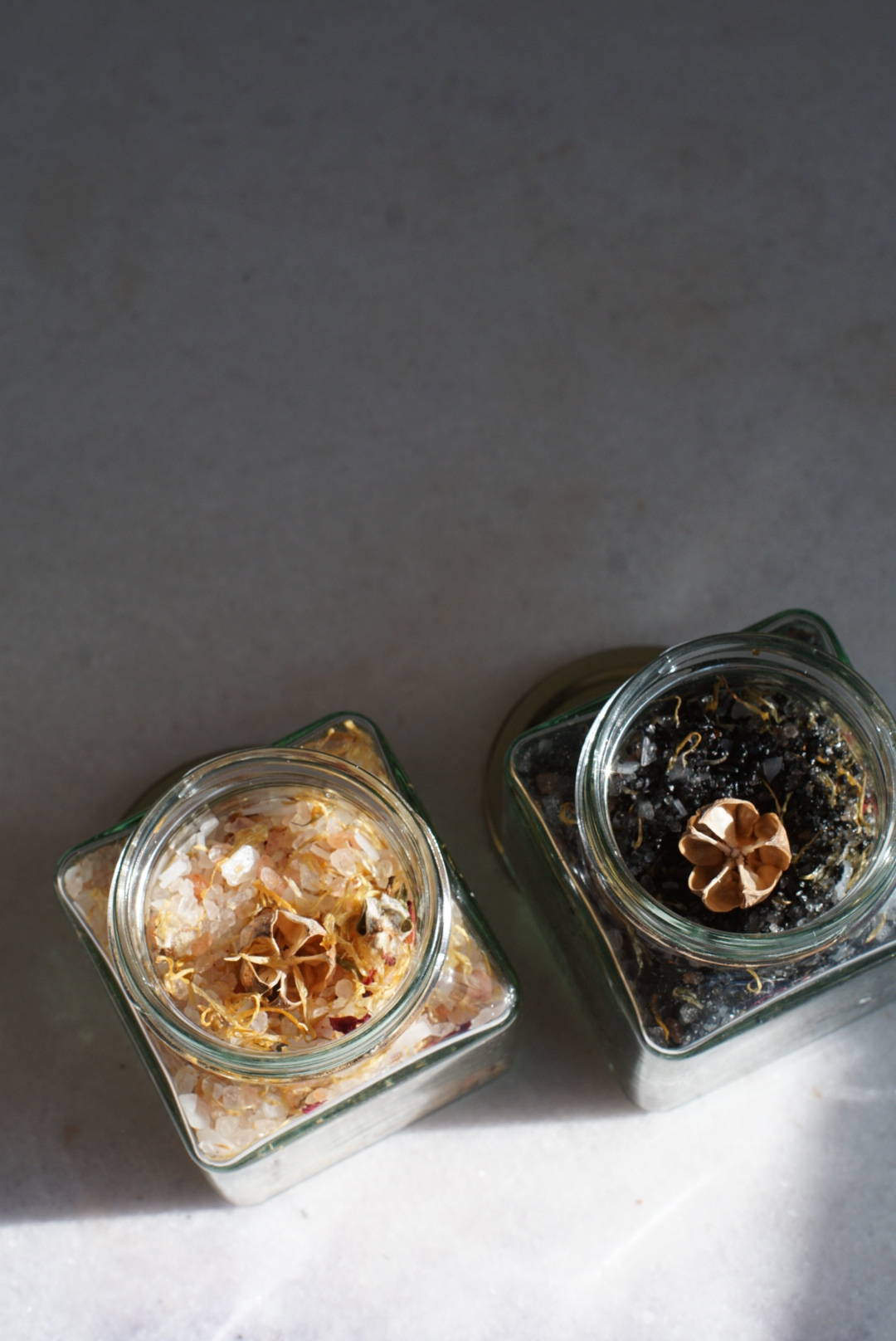 RECOMMENDED RITUAL

• Run a bath of first hot water.
• Portion the jar's contents into half and empty into the running stream of hot water.
• Fill remaining bath with tepid water.
• Soak for at least 20min.
*You can use our soak just for targeted areas as well. i.e hands/feet. Simply portion into quarters in a large basin instead.
DID YOU KNOW?
Magnesium Salts (technically called Magnesium Chloride), is the compound you find in all Magnesium supplements and it has a different molecular structure than Epsom Salts. The molecular structure of Magnesium Chloride is much more easily absorbed into the body than that of Epsom Salt. So while both are wonderful, I find the effects of Magnesium Chloride much more intense. In comparison to Epsom Salts, Magnesium Chloride is not usually recommended to be ingested, unless food-grade.
Sometimes the most productive thing you can do is relax.